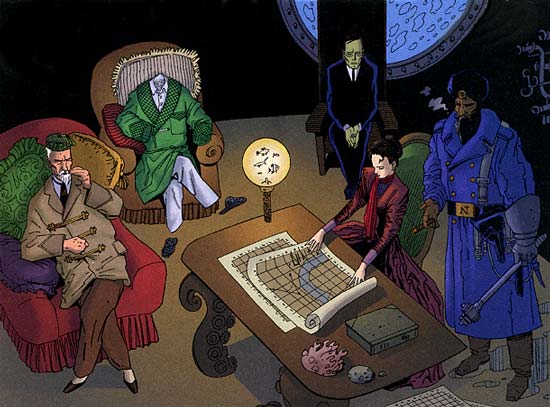 Divertido, criativo (créditos de Alan Moore, criador do comic) e só. Sem roteiro, caracterização ruim dos personagens (Mina Murray má e sedutora? Capitão Nemo lutando kung-fu?), impossível demais (carros e submarinos em alta velocidade no meio de Veneza). Mas não digo que não gostei. Entretém, e é o que basta.
Os filmes do tipo ação gratuita de Hollywood têm que ser assistidos sem pensar. Você senta lá, esquece de fazer sinapses e se diverte. Eu me adaptei totalmente ao estilo comercial acéfalo que tem predominado no gênero. Se é pra pensar ou aumentar minha cultura, prefiro os livros. Para descansar do excesso de pensamentos do dia-a-dia, nada melhor do que o modo "não processado".
E a coisa ainda contribuiu indiretamente para meu enriquecimento cultural: Tom Sawyer (Mark Twain) e The Picture of Dorian Gray (Oscar Wilde) adicionados à lista de "coisas que eu devo ler um dia para ser menos ignorante".